Cocoa Beach Helicopter Tours Discover the Space Coast from above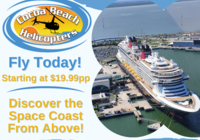 Welcome to Cocoa Beach, the jewel of Florida's Space Coast! If you're looking for a thrilling and memorable experience that captures the essence of this beautiful region, then check out Cocoa Beach Helicopter Tours, whose tours offer a bird's-eye view of the area's world-class attractions and breathtaking natural scenes, all from the comfort of climate-controlled helicopters. 
Cocoa Beach Helicopter Tours has a long history of being the leading provider of aerial sightseeing and flight experience tours in Central Florida. Sightsee the famous Space Coast and beautiful Cocoa Beach from the air with commercial sightseeing tours for up to three passengers at a time.
Buckle up, and let's explore why a helicopter tour over the Space Coast is a must-do activity.
Discover the Top Attractions
From the Kennedy Space Center with its historic rockets to enjoying the view of the cruise ships sailing in and out of Port Canaveral, Cocoa Beach Helicopter Tours showcases the best of Cocoa Beach as you glide through the sky. You will also get a unique perspective on iconic landmarks like the awe-inspiring seven-story architectural marvel, the Exploration Tower, located in the Cove area of Port Canaveral.
Embrace Nature's Beauty and Panoramic Views
Nature enthusiasts, get ready to be enchanted! The Cocoa Beach area is a paradise for those who love the great outdoors, and Cocoa Beach Helicopter Tours ensures you get a front-row seat to witness the breathtaking beauty of Florida's Space Coast. Of course, no tour of the Space Coast would be complete without marveling at the pristine beaches that stretch as far as the eye can see. 
Unmatched Comfort and Safety
Comfort and safety are our top priorities. The spacious helicopters at Cocoa Beach Helicopter Tours comfortably seat three passengers, ensuring everyone gets a fantastic view. With large windows for unobstructed sightseeing, you won't miss a moment of the stunning landscapes below. Rest assured, our helicopter pilots are FAA-certified professionals, guaranteeing a smooth and secure flight.
Whether you want a thrilling escapade or want to create long-lasting memories, a helicopter tour with Cocoa Beach Helicopter Tours promises to be an unforgettable experience, with a variety of tour packages that take you soaring over several iconic landmarks like the Thousand Islands, Kennedy Space Center, Orlando-based Disney World's Cruise Ships, and more. 
Discover the magic of Cocoa Beach and the Space Coast today with Cocoa Beach Helicopter Tours!
Sources: Take flight with an aerial tour from Cocoa Beach Helicopter Tours. (cocoabeachhelicopters.com); Before You Retire: See Cocoa Beach by Air (cocoabeachhelicopters.com)
#spacecoast, #spacecoastcondofinancing, #spacecoastcondomortgage, #spacecoastcondotelfinancing, #spacecoastcondotelmortgage, #spacecoastmortgage, #spacecoastmortgagebroker, #spacecoastmortgagecalculator, #spacecoastmortgagecompany, #spacecoastmortgagerates