Experience the Magic Between Summer and Fall in Cocoa Beachs Thousand Islands.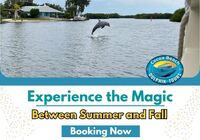 When you take a dolphin tour with Cocoa Beach Dolphin Tours, the wonders of nature come alive in the scenic Thousand Islands area of Cocoa Beach, Florida. Beyond seeing beloved dolphins, this remarkable ecosystem is home to diverse wildlife, including gentle manatees, various bird species, and other enchanting creatures.
Summer brings an abundance of wildlife seeking solace in the warm waters of the Cocoa Beach Thousand Islands. Catch a glimpse of playful dolphins, gators, and other marine wildlife aboard the US Coast Guard (USCG) approved pontoon boats of Cocoa Beach Dolphin Tours, with room for up to forty-nine passengers for a safe and comfortable environment for all adventurers. The skies above the Cocoa Beach Thousand Islands become an aviary during the summer, allowing guests to watch with delight as the comical pelican's dive for their meals and the elusive roseate spoonbills showcase their stunning pink plumage. From vibrant kingfishers to swift falcons, you'll be captivated by the diverse birdlife that inhabits this thriving ecosystem.
While the summer fades into fall, this is the perfect time to witness manatees return to the area, seeking refuge in the temperate waters as they lazily graze on seagrass beds. This season also welcomes the arrival of migratory raptors, including the majestic peregrine falcon and the striking Northern harrier. The islands become a natural theater, allowing you to observe these fascinating birds of prey as they hunt for sustenance. Fall's beauty lies in its serenity, where every encounter feels like a private spectacle between you and the wildlife.
At Cocoa Beach Dolphin Tours, we invite you to embrace nature's bounty of the Thousand Islands year-round. Beyond the beloved dolphins, the gentle manatees, diverse bird species, and enchanting creatures that call this thriving ecosystem home. Reserve your spot today for an unforgettable wildlife adventure, immersing yourself in the magic of Cocoa Beach's Thousand Islands' natural wonders.
Come in search of wildlife today!
Sources: Cocoa Beach's Thousand Islands (kayakcocoabeach.com); Wildlife Viewing – Thousand Islands National Park (canada.ca); Come in search of wildlife with Cocoa Beach Dolphin Tours!
#spacecoast, #spacecoastcondofinancing, #spacecoastcondomortgage, #spacecoastcondotelfinancing, #spacecoastcondotelmortgage, #spacecoastmortgage, #spacecoastmortgagebroker, #spacecoastmortgagecalculator, #spacecoastmortgagecompany, #spacecoastmortgagerates